Travel
I've been fortunate enough to enjoy pit-stops on several continents in recent years, often tagging along with husband Peter Mahaffy, a professor at The King's University College, who travels in international chemistry education circles.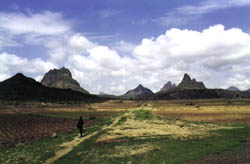 Closer to home, the Alberta Rocky Mountains figure large in this family's snatches of leisure time. In winter, it's screaming down mountain paths on cross-country skis (shouting "Lord, have mercy!" according to eyewitness accounts). In summer, the menu shifts to hiking. And biking, which in our family is not only recreation, but a mode of transportation—substitute for a second car.
When time permits, I relive our travel experiences in words. Not everyone in the family remembers those trips exactly as I do, nor do they always appreciate being the butt of gentle jokes—but that's the power of wielding the cursor.
Excerpts from a few of those remembered journeys appear here. For a full list of destinations or to arrange an assignment, contact
cheryl@wordsthatsing.com
.
Desperately seeking solitude: Had enough of the world? Escape to the back country
Westworld, November/December 1999, pp. 20-28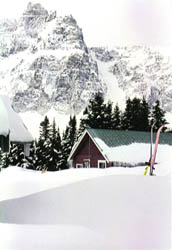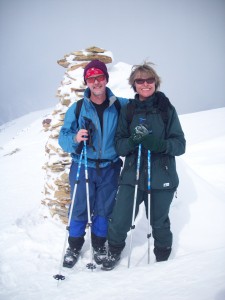 Canada's Rocky Mountains boast dozens of tucked-away cabins —hidden magnets that pull skiers far away from toil, tailpipes and even T-bars. Some of fer the deluxe lodge experience, with gourmet meals, duvet-topped mattresses and guided tours. Others take the rustic pack-it-in-yourself approach that's easier on the pocketbook—but harder on the heels. In the past few years, my husband Peter and I have tasted both….
Siberia discovered: Shades of northern Alberta—a case of same, yet not the same
Edmonton Journal, Saturday, January 16, 2010, I 1-2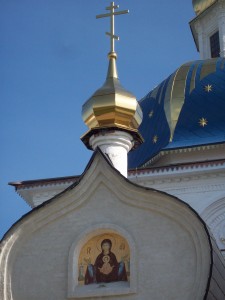 Siberia. More than any other place on Earth, the very word evokes exile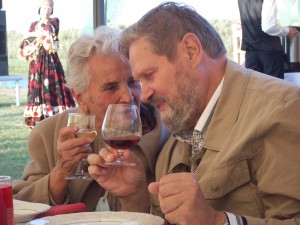 and vast nothingness. To be frank, it stood nowhere on my "must see" list, not even at the bottom. Then opportunity knocked. Invited by the Russian Academy of Sciences to speak in Siberia at an event celebrating Dmitri Mendeleev of periodic table fame, my husband Peter posed the question: Why not come along?
So here I am atop a cliff in Tobolsk, the ancient capital of Siberia where Mendeleev was born 175 years ago. Far below, the lower town meanders into the distance, its mix of shambles and brightly shuttered homes speaking volumes of the ebb and flow of fortune. In the golden light of late afternoon, church spires throw long shadows, dogs yap, cows graze unfenced and a worker heads home, coat slung over shoulder….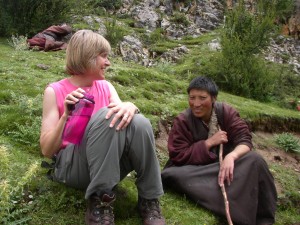 Seven days in Tibet Edmonton Journal, September 2, 2006, K1-2
 Entering Tibet at GongkharAirport, we drive around the base of a mountain to reach our hotel in Lhasa; returning to the airport one amazing week later, we zip under the mountain instead, through a tunnel so new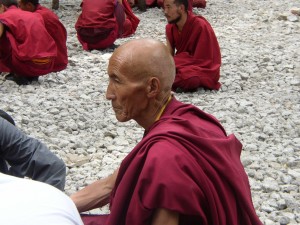 that the toll booths aren't yet in place.
Husband Peter and I welcome the fact that the new tunnel shaves a half hour from the 95-km trip between Tibet's capital city and its major airport, particularly since our driver slept in. Yet we're all too aware that this shortcut further pav es the way for foreign forces to overwhelm the unique culture of this long-isolated land of mountains and high plains, the storied "rooftop of the world." 
© 2006 by Cheryl Mahaffy. All rights reserved. For reprint information, contact  Cheryl@wordsthatsing.com
What lies beneath Vieques Island
Edmonton Journal, January 28, 2006, K1-2
For two Alberta landlubbers who've never snorkeled before, it's a revelation: beneath the seemingly empty waters off Puerto Rico's Vieques (vee-AY-kes) Island lives a bustling metropolis. Neon schools of fish in tight formation dart past rippling fronds; desperate prey dodge coral ledges with predators in cold pursuit. Quite like the madly kicking feet beneath the fixed smile of a synchronized swimmer, I think. Or like the history of the people who call this island home….
© 2006 by Cheryl Mahaffy. All rights reserved. For reprint information, contact Cheryl@wordsthatsing.com
Family canoe challenge
Edmonton Journal, August 14, 2004, K1-2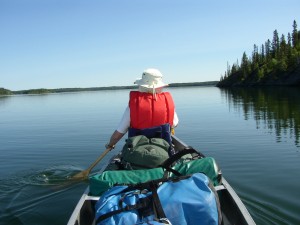 Yee hah! Two canoes buck the whitecaps of northeast Saskatchewan's Amisk Lake, carrying five nearly novice Mahaffys. While the parental duo proceeds with wary determination, sticking fast to the prescribed 45-degree angle against the waves, the sibling trio emits shouts of glee. Mos t gleeful of all: Miriam-in-the-middle, the 12-year-old who, when we began this excursion two sleeps ago, was loathe to step foot in such a tipsy craft. Particularly with parents who knew barely more than she did about surviving this sport.
We're hardly the crew Gerry and Ruth Angell had in mind, I suspect, when their Denare Beach outfitting business donated this three-night canoe trip….
© 2004 by Cheryl Mahaffy. All rights reserved. For reprint information, contact Cheryl@wordsthatsing.com
All ages show for this trek: Backcountry hiking with family and friends, aged 6 to 60 Edmonton Journal, May 4, 2002, K 1-2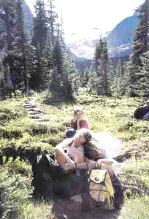 You're hiking how far with that crew of kids? Time becomes the most realistic unit of measure when dodging rocks, roots and muck in a group whose 40 legs range in age from six to 60-plus. By that reckoning, our route to the Wates-Gibson Hut in Jasper's backcountry stretches a long seven hours or more. For our porters striding ahead, meanwhile, it's a mere 19-kilometre walk in the woods — a morning's play made lucrative by the $2-a-pound we gladly pay to offload food and fuel….
For adults, this trip is about the wonder of tucked-away majesty, the accomplishment of getting there, the joy of camaraderie coupled with snatches of stunning solitude. For the younger set (who thoroughly destroy that solitude), it's certainly not about getting there. Rather, about being there….
© 2002 by Cheryl Mahaffy. All rights reserved. For reprint information, contact Cheryl@wordsthatsing.com
On the road again: Fun is up, cost is down in touring Eastern Europe Edmonton Journal, April 14, 2001, K 1-2
Nursing cool drinks on the floating patio of the Hotel Peter Schlott, our tired but contented fivesome watches low-slung barges snake through Frankfurt on the River Main. As ducks paddle up hopefully, we're enjoying a reunion: husband Peter has just flown in from a five-week academic stint in Eritrea, northeast Africa, while the three kids and I crossed the ocean from Edmonton, sardined between close-set Air Transat seats but well fed and watered.
We can thank 12-year-old Naomi for choosing this moored hotel for the first night of our three-week loop through Central Europe….
© 2001 by Cheryl Mahaffy. All rights reserved. For reprint information, contact Cheryl@wordsthatsing.com